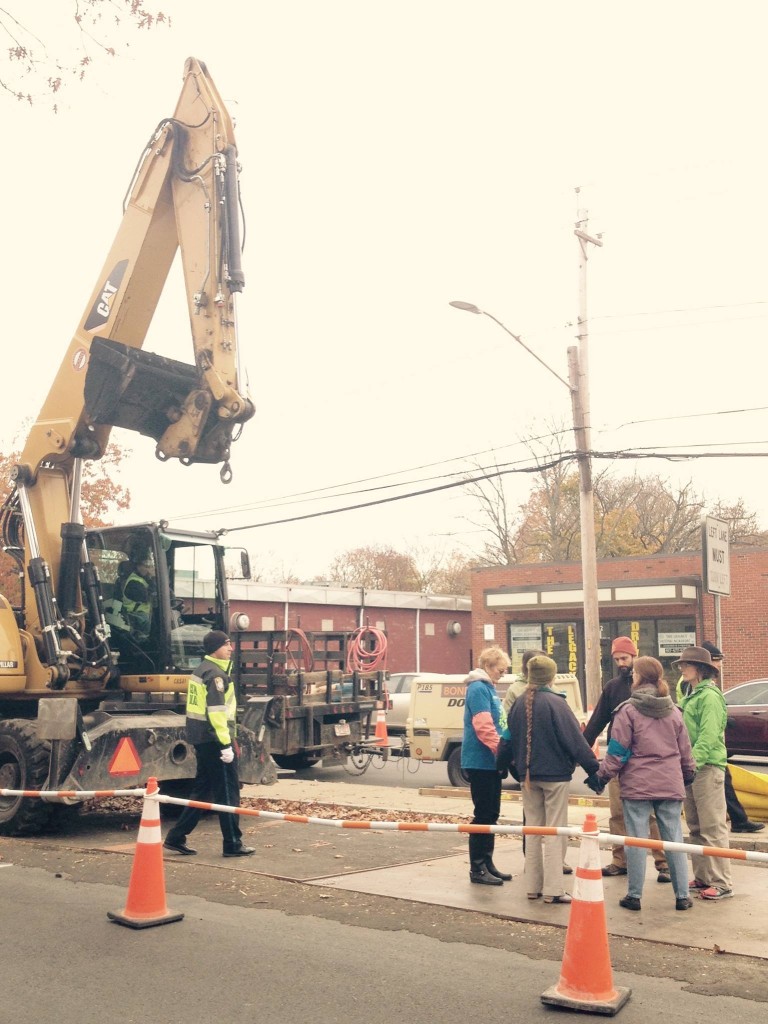 6 PEOPLE OF FAITH ARRESTED AT WEST ROXBURY PIPELINE SITE
ASKING "CLIMATE CHANGE: AN INVITATION TO NEW LIFE?"
Following on weeks of actions at the Spectra West Roxbury Lateral Pipeline construction site, a Quaker-led group placed themselves in the way of construction. Joined by other people of faith from Boston and beyond, the group met in silent prayer. Six were arrested for blocking construction of the high-pressure fracked-gas pipeline this morning on Washington St.
Katherine Fisher, a member of Beacon Hill Friends Meeting, one of the six arrested said, "Today we join in silent prayer in witness to God's transformative power to move us into new ways of being, and new ways of thinking about energy that will not endanger our future with climate change.
The West Roxbury Lateral pipeline is a five-mile spur off of a longer pipeline bringing fracked gas from Appalachia to Canada for export. A federal judge used eminent domain to force the City of Boston to allow Spectra Energy to construct this pipeline. Now, construction has begun and is continuing over the objections of many local people, including Boston Mayor Marty Walsh, U.S. Rep. Stephen Lynch, and others. Continuing to construct gas pipelines instead of using our resources for the transition to renewables endangers all of humanity.
Maureen Lanan of Watertown, another Quaker arrested, added, "We pray, with our words and our bodies, that construction of this pipeline will cease, and that our elected officials will push for bold ideas that move us beyond the status-quo."