For Immediate Release: 4 Pipeline Fighters Arrested in West Roxbury; City Council President expresses support  
Contact:
Nancy Wilson
Resist the Pipeline & Stop the West Roxbury Lateral (SWRL)
(617) 947-9488
[email protected]
West Roxbury, MA - Four people were arrested today blocking construction on the West Roxbury Lateral pipeline, a pipeline project being built by Spectra Energy. The people, using the nonviolent civil disobedience tactic of sitting on the construction site to force construction to a halt, were brought to West Roxbury Police department and charged with trespassing and disturbing the peace.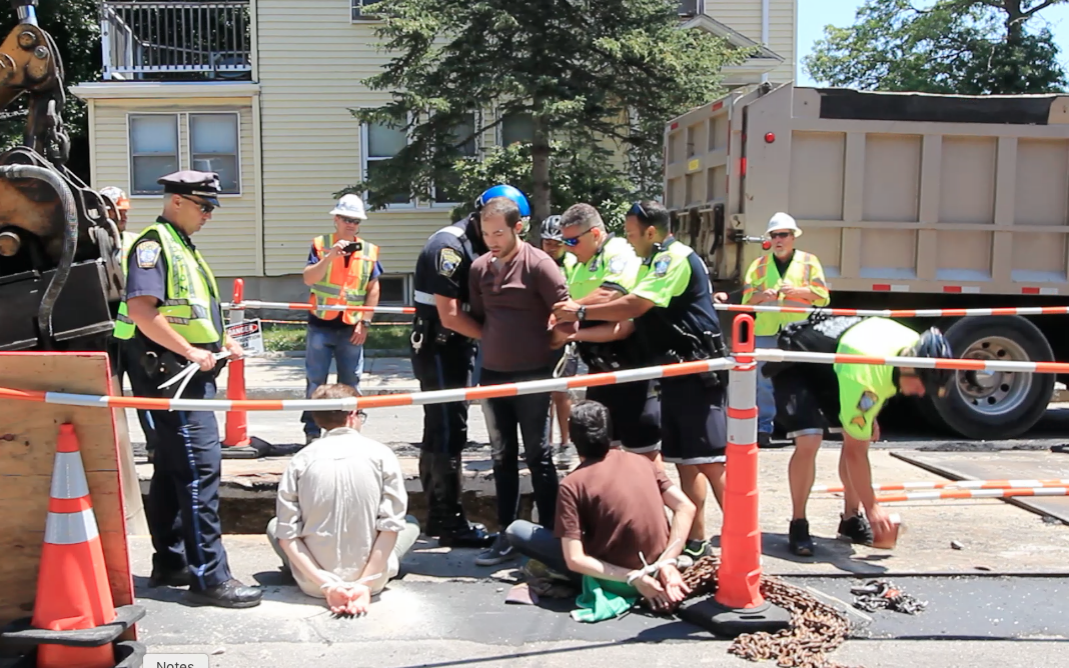 More than 100 people were on site to support those taking action. Six retired women, one in a wheelchair, also held space next to the construction zone and refused to leave for over two hours. Police created a makeshift off-limit zone around the women and allowed construction to continue.

The group Resist The Pipeline is organizing all activities during this week. The nonviolent civil disobedience comes as the second action during a week that that organizers for the group are calling 'Escalation Summer'.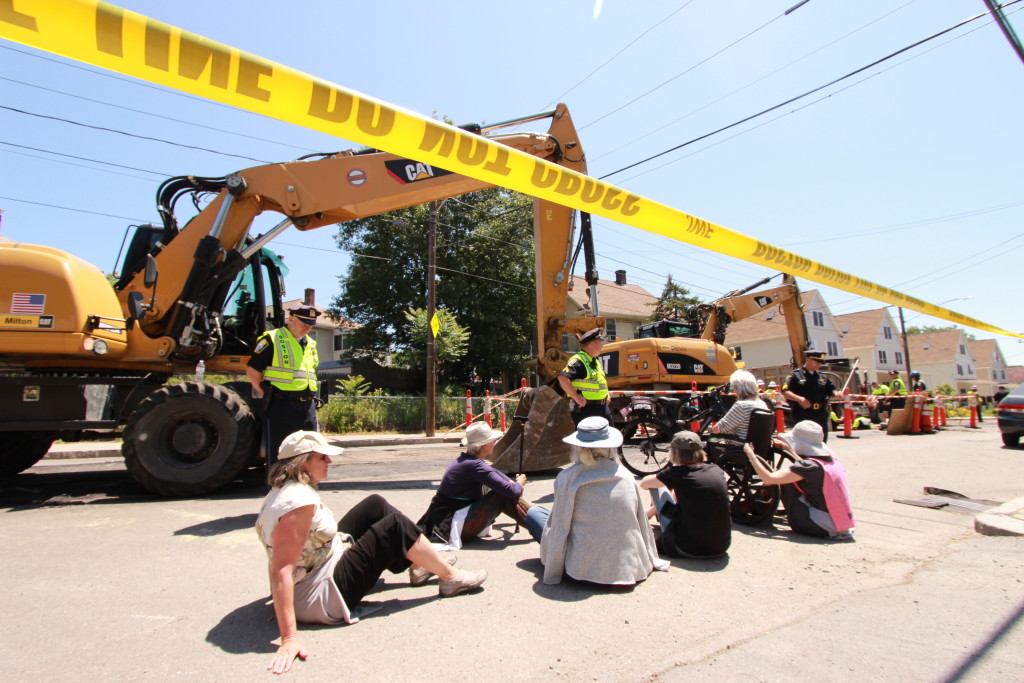 Before protesters and residents had even arrived at the construction site, the normal 4-5 construction crews had been reduced to 1 working construction crew, a result that organizers are hailing as a demonstration of the power of communities coming together.
"We won't allow Spectra to come in and put our communities at risk for their own monetary gain. We will continue to  show up and fight back until we bring an end to all of their projects," said Laura Borth, a resident of Weymouth.
City Council President Michelle Wu expressed support for the actions: "Building new natural gas infrastructure, such as Spectra Energy's West Roxbury Lateral Pipeline, is wrong for our communities and wrong for future generations. I applaud the thoughtful, purposeful, nonviolent civil disobedience West Roxbury residents and friends are practicing to accomplish what needs to get done."
"Climate change impacts us all and especially future generations. We need immediate, bold action to transition rapidly away from reliance on fossil fuels to renewable energy," she added.
Police have scaled up their efforts to keep protesters out of Spectra Energy's work sites. Police lined both sides of the work sites and combed side streets looking for protesters ready to disrupt construction.
"They even brought in a SWAT team. It was like a private army of protection, making sure Spectra's climate 'Death Star' [the pipeline] would get built," said Shea Riester, a resident of Cambridge and one of those arrested Saturday.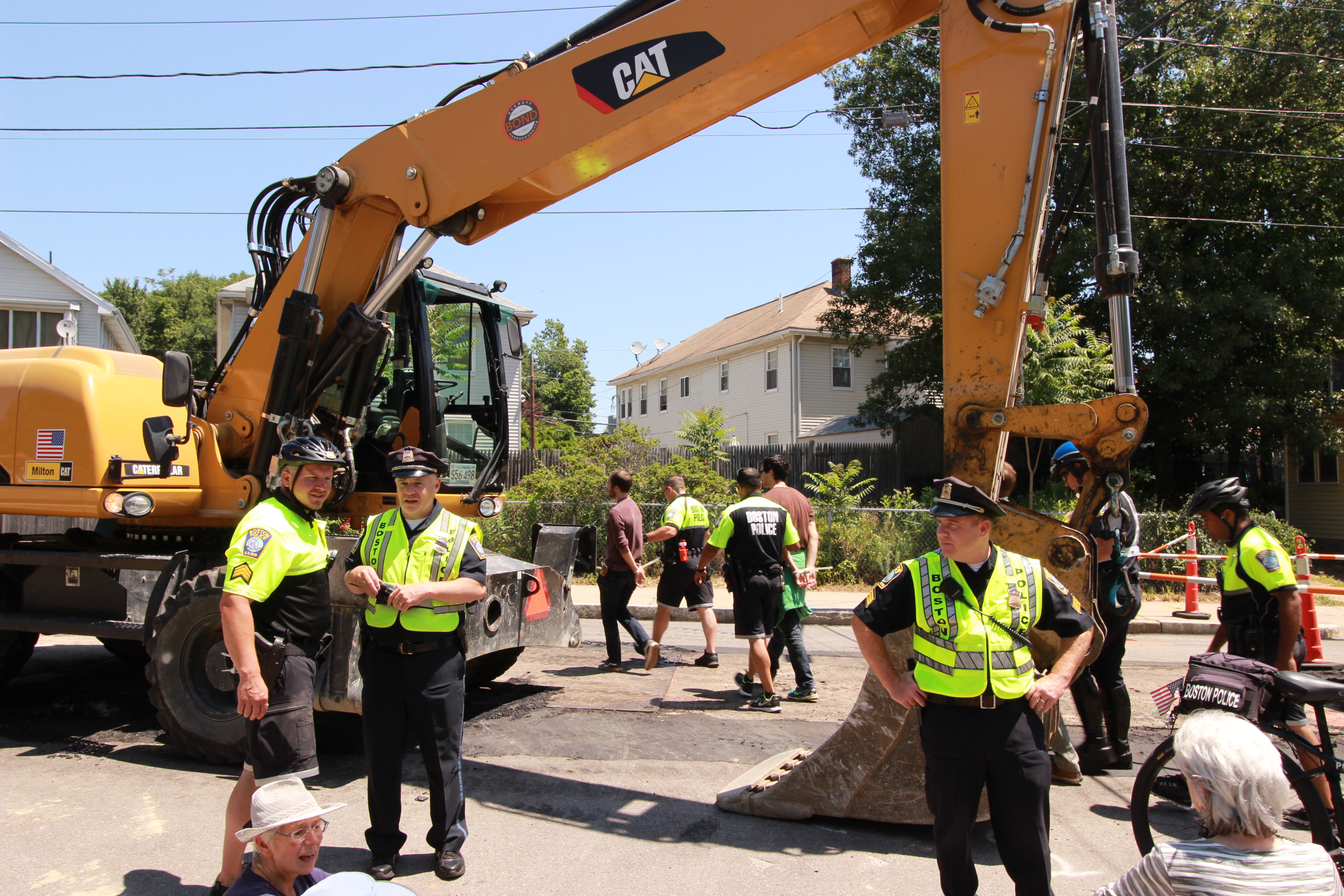 Work on the project in the city of Boston began on September 29, 2015. Since then, 117 people have been arrested for peacefully blocking construction of the West Roxbury Lateral Pipeline.
Those arrested were released on a $40 fee and their own recognizance. They will be arraigned in West Roxbury Courthouse court Monday morning at 9 a.m.